ANNUAL GOLF OUTING EVENT
Can't take another day off of work? Want to break out your clubs? Would like to support a great organization? Well, SOC has the perfect event for you!
SOC presents to you our 6th Annual Golf Outing Event held on Saturday, July 21st at the Platteville Golf & Country Club! During this event, 18 foursomes have the chance to play best ball during 9 holes of golf! Contests are presented at each hole, where golfers have the chance to win raffle tickets and other amazing prizes!
The ultimate goal of this event has always been to enhance supporters' knowledge of SOC and its mission, all while engaging in a fun and exciting event! Over the past five years, we have achieved that goal by making memories that last a lifetime, and we are ecstatic to do it again! So, please, don't miss out on all the excitement that SOC has to offer! Sign up early, grab your clubs and meet us on the green for an exciting night full of food, fun and prizes!
2017 Outing Update:
While the rain put a damper on the original date, it didn't put a damper on the event, itself. We had spectacular day and there were many great memories made. Thanks to everyone's support, the event raised over $6,500, making it the most successful outing yet and, for that, we thank you! SOC wouldn't be where it is today without the communities support. Below, is a list of the area's local businesses who sponsored the event.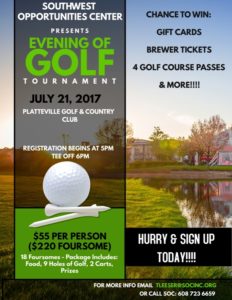 Platinum Sponsors:
Allegiant Oil, LLC
RAYOVAC
Jim and Karen Schneller/ Schneller Properties LLC
Southwest Health Center-Platteville
Gold Sponsors:
Martha's Hot Mustard
Midwest Builders, Inc.
Bemis
Hughes Dental
Royal Bank
JAS Candies
Wisconsin Bank & Trust
Southwest Wisconsin Technical College
Silver Sponsors:
Mound's City Bank
Tri-Com US Cellular/ Radio Shack
Scott & Heenan, LLC
Premiere Coop
Eastman Cartwright
Reddy Ag Services/ Ross Soil Services
Zippy's Brass Rail
Faherty Inc.
For more information on how you can get involved, please contact Tori Leeser, Development Coordinator, at 608-723-6659 or tleeser@socinc.org.