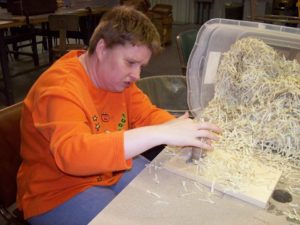 Made by Southwest Opportunities Center clients, Re-Kindle Fire Starters are environmentally responsible, made from recycled materials, easy to use, and long burning! Perfect for indoor fireplaces, backyard fire pits, bonfires and more!
How to Use Re-Kindle Fire Starters:
Unwrap raffia from wick end of packaging and tear paper down to the fire starter tube.
Place fire starter, label side up, in fireplace or other fire box designed for burning firewood. Light fire starter wick.
Place logs above fire starter, leaving fire starter slightly exposed and with air spaces between logs.
Make sure that sparks from flames will not ignite combustible materials.
Use glass door or fire screen to prevent sparks from escaping fire box.
Please visit http://dnr.wi.gov/topic/forestfire/ for fire safety and fire danger alerts for your county.
Re-Kindle Fire Starters are available at any of these fine retailers:
SunGarden Market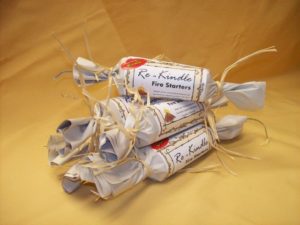 1500 Industrial Park Road,
Lancaster, WI 53813
608-723-6659
Okey's Market
Cassville
608-723-4108
Your Neighborhood Thrift & Gift
233 W. Maple Street, Lancaster, WI 53813
608-723-2505
Southwest Opportunities Center
1600 Industrial Park Road, Lancaster, WI 53813
608-723-6659
The Cave Campground– Southwest Wisconsin
For more information, please contact John Rank, Procurement Coordinator at 608-723-6659 or jrank@socinc.org